Dream Big - Without Breaking the Bank
Financing Your Food Truck Has Never Been Easier
If your business is located in California, you may qualify for a loan of up to $350K!
Don't miss out on this amazing opportunity to secure a low-interest business loan through PCR Business Finance and America's SBDC.
Get Approved Today With Koala Capital.

High-quality, custom food trucks can be expensive. But you don't need to have the full $80,000 – $150,000 upfront. We can leverage our partnerships on your behalf to help you receive the financing you need to get you behind the wheel of your dream food truck!
Legion Food Trucks is partnered with Koala Capital to get our customers the assistance they need. Financing terms range from 12 – 60 months and buyout options are tailored to meet your budget and needs.
As long as you have good credit and can make a down payment, we can guarantee that you will be able to secure the financing you need to get your business off the ground. We keep the process simple and will work with you and provide guidance every step of the way. Just follow the steps below to make your dream a reality.
How to Get Financed
With good credit and a down payment, we can make your dream a reality.
Step 1
Download the credit application below, print it out, and fill out your information.
Step 2
Rescan your finished application and upload it to your computer. Submit it to our financing team by uploading as an attachment using the form at the bottom of this page.
Step 3
We will review your application and contact you within 48 hours to review your available financing options and discuss the next steps.
Questions? You can send us a message on the form below without attaching the application, and we'll respond within 48 hours.
Apply Now
Ready to take the next step? Fill out the following form and submit them to us below! Contact us for any questions you may have.
Get Our FREE Financing Guide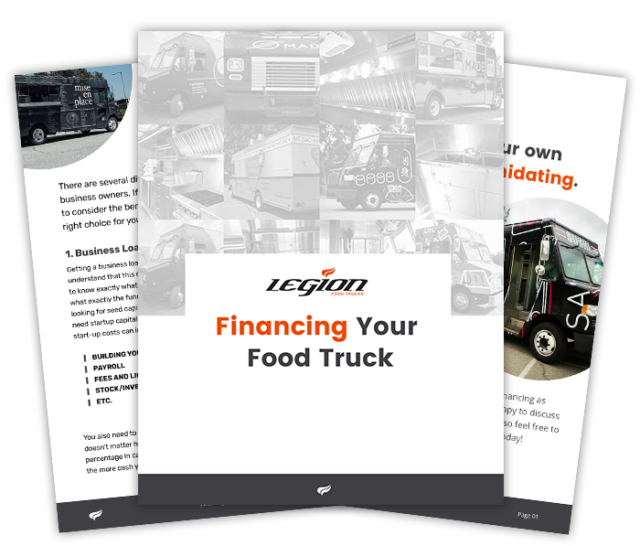 You have options when it comes to financing your food truck. Learn what they are!
No matter what your situation is, there is an option for you! In this FREE guide, we'll help you find the ideal solution for your business. We'll explain the pros and cons of several financing options, such as:
Operating Lease
Capital Lease
Rental Agreement
Equipment Finance Agreement
And More!