With sit down restaurant patronage in a slump, now is a great time to launch a food truck. The Future of San Francisco dining may depend on food trucks, says this San Francisco Chronicle post. Need advice on food truck financing? Wonder who makes them? Clueless about required permits? Read this post to get answers for these and many other questions.
Legion Food Trucks is a one-stop source of information in addition to specially designed vehicles for prospective food truck entrepreneurs.
A Food Truck That Fits Your Needs and Culinary Theme
Your food truck's design is part of your unique brand. Brand awareness is of great importance when planning a food truck business.  So you'll want to create a food truck with care. It should offer a convenient setup for preparing signature culinary offerings and feature an exterior design that attracts customers who will enjoy your fare and come back for more.
Every food truck that rolls off our floor is fully permitted and up to code. It will provide customers with a fitting experience of the type of cuisine the owner conjures. Ready to start your plan rolling? Try the interactive food truck builder on our site. Once you have an idea of the concept you desire, we can help you apply for financing, attain the necessary permits and discuss the nuts and bolts of running a food truck.
Once your concept becomes a blueprint, our team of skilled fabricators, installers and electricians, will put together your dream food truck. Together, they can convert nearly any vehicle into a fully functioning kitchen and service area. Our graphic designers and project managers can turn your truck into an entirely original concept.
And we've got your back even after you drive out the door. We service what we sell, sometimes in the same day, if it's a simple fix.
Ready to See if We Can Put a Food Truck in Your Future?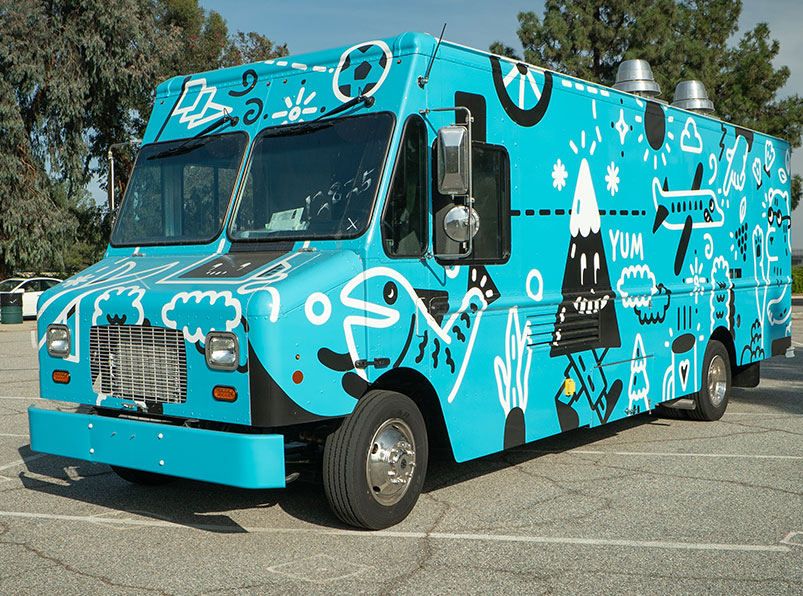 Several types of loans and leases are available, conventionally, and through our platform. We will be happy to discuss the details and help you decide which type might be right for you.
Food truck financing options can be found on our website. A list of choices includes:
Loans through conventional channels:
Business loans through a conventional bank
Microloans
Crowdfunding
Loans and leases through Legion's platform:
Operating leases (a true lease)
A capital lease
A rental agreement
An equipment finance agreement
Permits, Licenses, and Pertinent Information
Here's a list of topics you will need to address before opening for business:
Employer identification number
Business license
Vehicle license
Seller's permit
Food handler's permit
Health department permit
Fire certificates
Each state, county, and city has its own specific set of requirements for those  operating a food truck business. It's important to meet the requirements, to avoid costly fines and penalties.
Legion Food Trucks has been serving the mobile food service industry for over 27 years. There is no challenge we can't overcome. We have the ability to create the best food trucks in the business, and we are specialists in food truck financing.
Contact us to make your dream of creating a kitchen on wheels come to fruition. Finding everything you need in one place eliminates excuses for not checking to see if your dream food truck could be in your future.
Related posts