An attention-grabbing menu design is vital to the success of any food truck startup. The first thing customers reach for or ask about when they visit an eatery is a menu. The menu creates an impression of what customers can expect from your food truck. 
How your menu looks plays a crucial role in customer behavior, affecting sales. According to a report published by Georgia State University, customers are more inclined to purchase if they find the menu visually appealing.
We'll review three menu design ideas and how they can help you scale up your food truck business.
3 Menu Design Ideas For Your Food Truck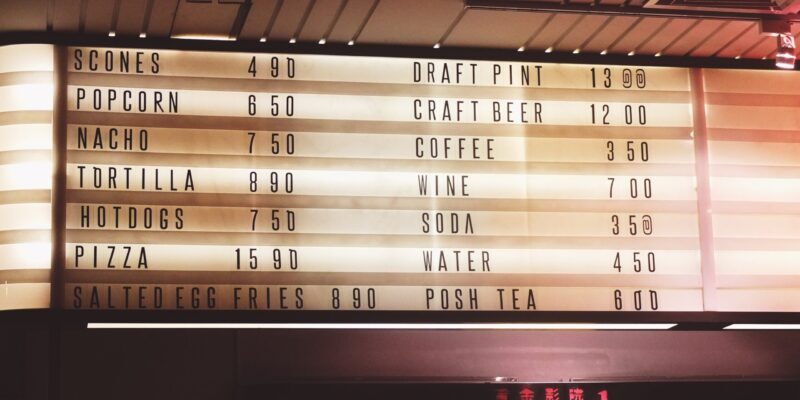 While the cost of a food truck is considerably lower than opening a restaurant, it's essential to ensure that your investment gets returns. A comprehensive and well-designed menu can help you achieve that. Here are three menu design ideas you should consider for your food truck:
1. Digital Menu Boards
A digital menu creates visual appeal, which influences customers' purchasing decisions. The human eye is naturally drawn to visually exciting items. According to psychology, looking at images of food increases appetite. Therefore, including pictures and videos in your digital menu will not only keep your customers engaged but also encourages more sales. 
As a start-up, chances are you already have a list of food items that you'll sell to your customers. As your customer base grows, you'll have more demand for various food items. With a digital menu, it's easy to add more items and update the menu without incurring more costs.
2. Whiteboard Menus
Whiteboard menus are easy to spot from a distance. In addition, they provide the flexibility of changing the menu items just by erasing them. For example, if your menu includes a daily special, it's easier to make changes every day with no additional costs. 
What's more, a whiteboard menu is easy to install, and you won't have to break the bank to afford it. You can choose from a variety of materials such as:
Wood board
melamine
porcelain
3. Truck Wrap Menu Display
A truck wrap menu is the best way to boldly assert your presence in a particular street and increase foot traffic.
The wrap menu provides your food truck with more visibility and allows you to use the psychology of colors to enhance brand recognition, thereby increasing sales. Studies show that creative color in branding can increase brand awareness by 80% and visual appearance by 93%.
When printing your food truck wrap menu, make sure it includes the following:
Name of the business
Pictures of the meals on sale
A menu print
Contact information
Considering the marketing advantage the vinyl wrap menu provides, the profits you stand to gain will help you recover the initial cost of installation. Moreover, the wrap adds a protective layer to your truck, helping you reduce maintenance costs in case of scratches.

Why Choose Us?
At Legion Food Trucks, we specialize in high-quality food truck designs tailored to specific client needs to help our clients scale up their businesses. We make sure that everything in the food truck is up to standard and complies with licensing regulations.  For more information or to learn more about our services, contact us today.
Related posts