The popularity of food trucks for catering continues to grow throughout the US, with IBISWorld reporting over 35,512 food truck businesses in the United States alone, a 13.7% increase from 2021. That's another fancy way of saying building a food truck business is one of the safest investments you can make.
However, building and growing a food truck business isn't as easy as it looks. You must follow specific strategies and processes to boost your food truck revenue and increase sales. Read on.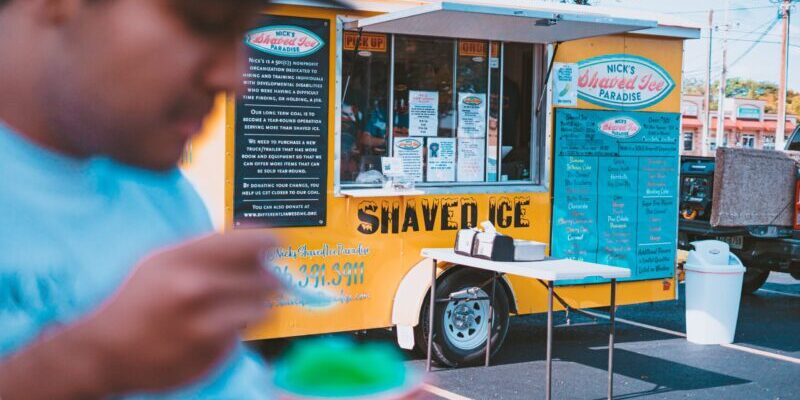 Strategies for Boosting Revenue with Food Trucks for Catering
This post discusses top tips for boosting your food truck revenue by figuring out what strategies will stick. Here's a comprehensive guide of simple but effective tips to increase your food truck revenue:
1. Create a Unique, Memorable Concept
Establishing a solid, memorable selling point for your food truck is critical in helping attract more customers. That means creating an exclusive design and using an apt name for it. You must have something unique and memorable to offer to encourage word-of-mouth for your business and make it newsworthy.
The idea here is to find something other food trucks for catering businesses aren't doing and do it differently. You want your customers to do the marketing work by spreading the word about your food truck.
2. Get Multiple Food Trucks
It is essential to reinvest your profits back into your food truck business to help it grow. You can buy a new truck outright or rent one. Having more food trucks allows you to expand into multiple markets and boost your revenue.
3. Add or Change New Menu Items Seasonally
You may have the best menu choices and ideas for food truck catering, but even so, you shouldn't stick to the same menu ideas season after season. Sure, tweaking and editing your menu can be quite a hassle, but it is a necessary step to boost your revenue.
Try varying your menu occasionally to attract more customers to your food truck. If possible, introduce new seasonal dishes for particular periods and keep experimenting with your dishes. Your customers will surely come back hoping to try something new from your food truck.
4. Play with Different Locations
One of the main perks of owning food trucks for catering is the flexibility and mobility that comes with it. Unlike a restaurant, you can quickly drive your food truck to a different spot if the current location isn't doing well.
Parking will significantly impact how much sales and revenue your business can generate. Even with the best food menu, you won't get great deals if your parking choice is poor. Having a good and accessible parking location with many foot traffic is a surefire way to boost your food truck revenue.
5. Offer Mobile Ordering
Industries are continually modernizing their systems and services, including the food industry. Most of today's businesses are going mobile to give their customers more accessible access to their products and services. Mobile apps can show your customers the real-time location of your food trucks for convenience.
You can also create your food truck app that offers customers mobile ordering options and mobile payments. You want to make it easier for your customers to find your business, make orders online, wait for their food, and pay through the app. More customers will prefer ordering your food for the convenience you provide, increasing your revenue significantly.
Expand Your Business with Legion Food Trucks
Legion Food Trucks provides you with the necessary tools and resources to help boost the revenue of your food truck business. We help you realize your catering dreams by helping you design the perfect food trucks for catering and strategies to increase your income. Contact us today to start growing your food truck business.
Related posts