Steve Jobs once motivated companies by telling them to be a yardstick of quality because some people aren't used to an environment where excellence is expected. When it comes to the food truck business, the business owner must demand nothing less. One vital key to your success is working with a high-quality custom food truck builder to ensure you get premium quality, not just in the places that matter the most, but across the board. When vetting custom food truck builders, here are three parts of a food truck construction to question and gain insight into quality levels.
Choosing Your Platform
What kind of truck is ideal for your specific business? While some may care whether their truck is a Ford or a Chevy, what really matters the most is the useable space inside the truck. For example, a truck serving ice cream treats may require a freezer, smaller prep space, and enough room left over for storage, clean-up, and for a one-man crew. On the other hand, a food truck that sells Japanese food may need refrigeration for fish and produce, a frier for tempura-based menu items, a large workspace for creating complex rolls, ample storage, and enough room for four people. Most food trucks come in the following sizes:
14 foot
16 foot
18 foot
20 foot
Trailer
You don't want to go too big, or else you run into unnecessary expenses while going too small will ramp-up costs and create limitations. Food truck companies like Legion have experienced industry experts who can take any mobile kitchen business model and pair it with the right platform.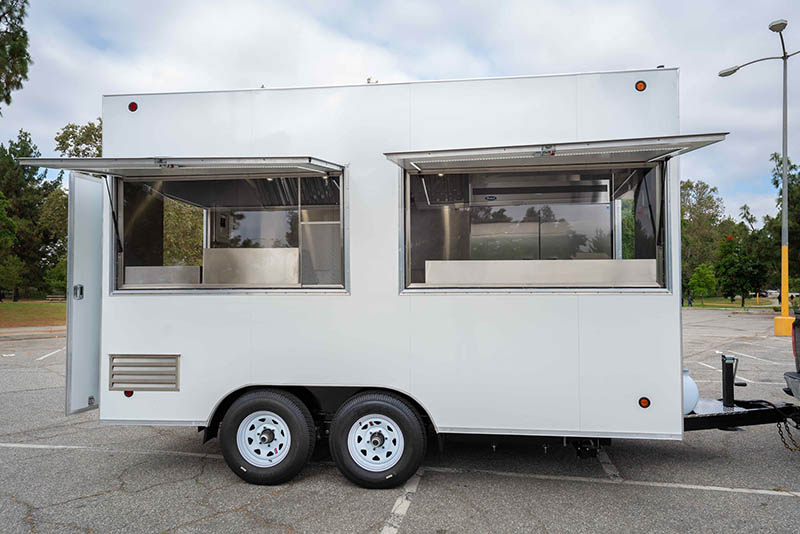 Get the Right Food Truck Equipment According to Your Specific Market
Imagine a line of hungry customers at your truck waiting impatiently for a burger, and your griddle can only cook four burgers with their grilled side-items at once. By the time you hand a burger to the customer, you notice half the line has vanished to go to a competitor truck that has the capacity to cook more and work through lines faster. This is a common business-killer in the food truck industry; owners don't scale or delve into projections. When it comes to knowing how to hire the right food truck company, you don't want to look solely at the quality of the trucks BUT also find a company that truly understand your market and can build a custom food truck that will suit both your immediate needs and fulfill your needs as you grow. Legion Food Trucks is a national leader that takes local market projections and creates a food truck build proposal customized to each owner, their location, cuisine type, and the client's goals. The griddle, range, stove, broiler, fryer, and freezer/refrigeration capacity needs to be carefully selected and backed by solid data to justify a smart build.
Technology is also important. If you plan to work for the downtown crowds at lunchtime your clients are likely going to be in their mid-20s to mid-40s. Considering the age generation and area, you can expect tech-savvy people and busy lines. Having a digital menu displayed on LCD screens with the ability to pre-order online will not only appease the tech nerd in your audience but will also shorten lines without chopping your orders. Now you have more business and you are drawing additional business due to the ease of ordering and shorter lines.
Food Truck Company that Understands Branding
Your logo, colors, and physical presentation automatically create specific energy and feel. If you can attract hungry crowds to check out your truck in a sea of competing trucks with eye-catching design and branding that makes sense, you have more than a 70% chance of earning their business based on looks alone. Then if your menu is spot-on, you will hit a home run. Find a food truck builder company that also specializes in branding. Legion Food Trucks has a team of savvy marketers who can understand your consumer audiences, your goals and company's story, and create a logo with a custom vinyl wrap job designed to make your food truck stand out and resonate with the most paying customers.
Ready to Build a Food Truck of Your Own?
You can build your own food truck online right here; then give us a call with any questions you might have. Our team would love to hear about your business and offer tips on how you can best serve your customers!

Related posts