When building a food truck, it's easy to get excited about the exterior of your food truck. Colors, graphics, logos, technology…what's not to love? But the interior design is just as important. What equipment will your kitchen require? How will you maximize space? How will you minimize safety hazards? These are all questions you need to ask when thinking about the interior design of your food truck. Here are some practical food truck interior design ideas to consider for your next vehicle.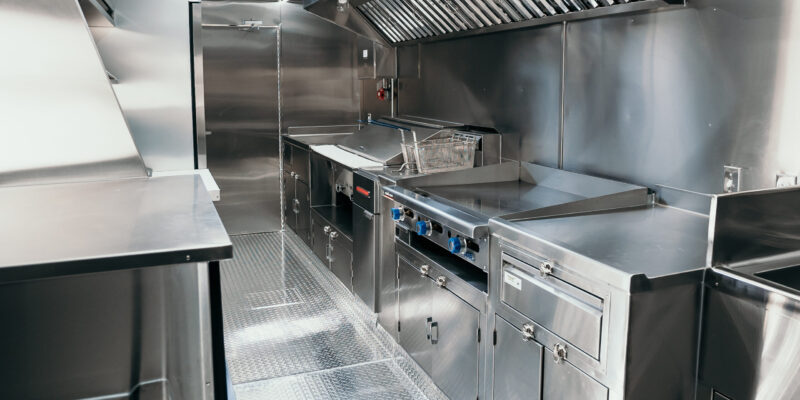 Stainless Steel Interior Design
Using stainless steel for your food truck interior design has several benefits, including:
Stainless steel is exceptionally strong and is also a highly malleable material. Your food truck spaces can be more open and free of excessive structural columns. The material also has a natural coating that prevents oxidation.
Combined with its corrosion resistance, using stainless steel for your interior design helps you reduce regular repair and maintenance costs. 
Sustainable and Easy to Clean. 
Stainless steel is highly recyclable and can be repurposed. Besides, it's easy to clean. It leaves an aesthetically pleasing shine when cleaned professionally and maintained. Stainless steel is safe for use in the food industry.
Install Non-Slippery Floors
A food truck works as a kitchen, meaning constant spillage on floors, surfaces, and foot traffic. Unfortunately, a slippery floor or spillages on the floor increases the chances of accidents. While you can't avoid spillage accidents, you can install a non-skid floor before operating the food truck. Non-skid floors have more traction and minimize slippery casualties in your truck.
Rubber flooring is the best choice for a food truck since it is slip-resistant, even when wet. It is also highly durable, making it an ideal long-term investment for your food truck business.
Use Vertical Storage
A food truck has limited space for operation. However, the storage space becomes smaller and dysfunctional as your business grows. Measures you can take to increase storage space in your food truck include using vertical storage. 
Using vertical storage in your food truck also helps you to:
Improve the ergonomics of your space
Improve accuracy, such as how you manage inventory
Improve operational efficiency.
Use Multi-Purpose Cooking Equipment
There's almost an appliance for every kitchen task. It clutters your business space. An alternative is to purchase multi-purpose cooking equipment and appliances. You will reduce bulky appliances and save on space and purchase costs.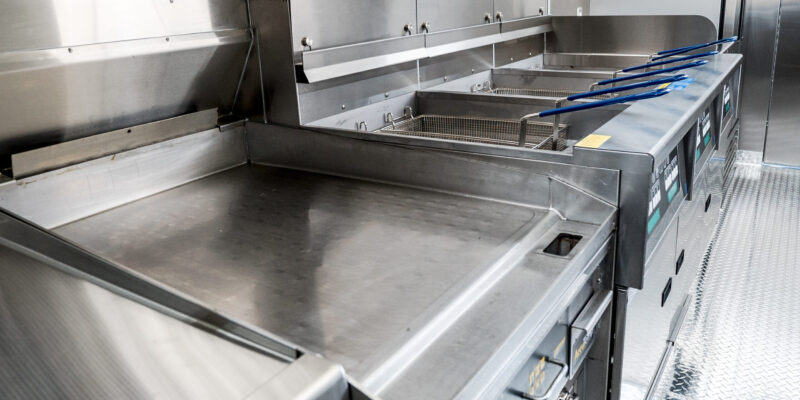 Hire Legion Food Trucks for your Food Truck Design and Building
Customizing your food truck helps you stand out in your employees' and customers' eyes. While exterior designs help push your brand and attract customers, interior designing increases efficiency for your food truck employees. Worker efficiency translates to maximum output and profitability, which means a return on investment by incorporating these ideas. Contact Legion Food Trucks today for more food truck interior design ideas and actionable tips.
Related posts