Deep fryers are an essential part of many commercial kitchens – and food trucks are no exception. While there is always risk involved in operating one, that risk can be magnified when working in a tight space that moves around. How can food truck workers safely operate a food truck with fryers? Here are some tips for preventing injuries and other safety hazards.
Have Environmental Awareness When Operating a Food Truck with Fryers
When operating a food truck with fryers, you must demonstrate that you have a high level of environmental awareness. It's crucial when working with boiling oil since it prevents injury to coworkers and others. For example, you could slip on the floor and fall onto hot objects or be exposed to more flames, splashing oil or steam.
Carrying hot foods or beverages in confined areas is also perilous. When you're moving behind someone or managing hot items, make it a practice to be vocal about your location in relation to others. To adopt proper safety procedures for commercial fryers, workers need to be aware of their surroundings and work with precaution. 
It is also recommended that you properly secure food truck kitchen equipment to prevent damage.
Clean Your Deep Fryer Regularly for Safety
Like any other kitchen appliance, a deep fryer requires routine maintenance and cleaning. Fryers must be cleaned, and the oil changed regularly. Extending the life of your deep fryer allows you to make better-cooked meals in a bit of space. Read the owner's manual and follow instructions.
Be Sure To Adhere to Basic Rules of Frying
Even though the frying procedure is the same whether in a food truck or any other kitchen, food trucks are primarily designed to meet the customer's need for faster meal preparation; however, depending on the food quality, be sure to comply with the basic frying regulations.
For example, never heat frying oil above 350 degrees Fahrenheit. Furthermore, you should follow a standard set of procedures regarding how much food you place in the frying containers. This ensures consistency and a predictable frying time. The
 ideal ratio is 1:10, and it should not exceed that. You should filter every service to maintain high quality.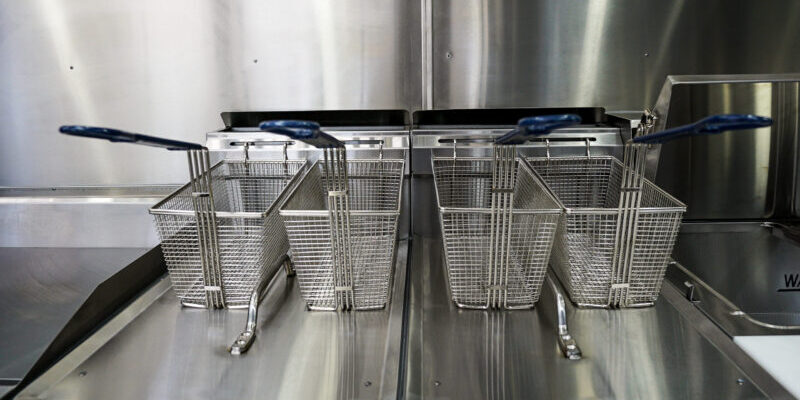 Always Have a Class K Fire Extinguisher on Hand
Oil fires cannot be put out with water, even though heated oil can quickly start them. As a result, having a class K fire extinguisher nearby and a readily available area is vital while operating a food truck with fryers. This fire extinguisher is made to extinguish fires caused by cooking fats, grease, or oils. It is not enough to have a class K fire extinguisher; you must also be well-versed in the regulations to be observed in an oil fire. If you have coworkers, educate them on using the fire extinguisher.
Food Truck Designs With Safety in Mind
A food truck is much more than a food delivery vehicle. You can customize and operate a food truck with fryers perfectly if you take proper commercial fryer safety precautions.
At Legion Food Trucks, we build all of our vehicles with quality and safety in mind. We only use commercial-grade equipment and completely weld everything together to ensure the highest level of stability. Visit our website to start building your next food truck today.

Related posts